The Music
The Band 2006-2011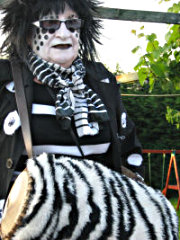 Pig Dyke Molly has always had a reputation for its music which is quite unlike that of any other dance team. That's partly due to Dave Parker's Sousaphone and Chris Kempton's percussion, but the real inspiration behind the music was Robin Griggs who played melodeon and composed nearly all the tunes.
Rob died in January 2008, and there is a page of tributes which give a flavour of him and his influence on the team.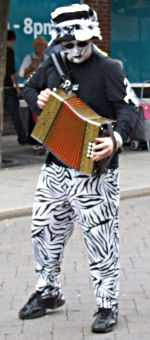 During 2007 Tom Sennett (melodeon) and later Mary Humphreys and Anahata (melodeon and English concertina) took over as Rob became too unwell to play in his last months.
The music was not quite the same, but still distinctive. We still had Dave's Sousaphone and Chris's percussion. We used less well-known traditional tunes that work well for the dances and the tradition of writing our own tunes has continued, with contributions from Tom and Anahata. We used some of Rob's tunes too, which we had to learn from recordings as Rob didn't actually read and write music - he had them all in his head!
2011 Onwards
In 2011 Kai Jenkins joined us, having demonstrated astonishing talent on the melodeon for a player of any age - and he was only 11 at the time! He'd already danced with the team for 2 years. Kai has learned all of Rob's tunes so the dancers are now having to get used to more than one tune for the same dance, depending on who's playing that day. We have a video of Kai (aged 11 at the time) playing for two other Pig Dyke members at the
Sidmouth Morris Jig competition
.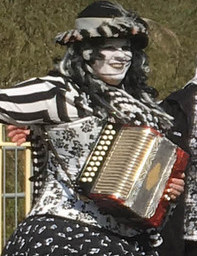 At the start of 2013, Kathryn Johnstone joined us on alto Saxophone. Another talented and young player, her progress from one week to the next was spectacular, and it wasn't long before she was not just playing along with the tunes but adding some of her own "Pig Dyke magic" to the music. By Autumn of the same year, Kathryn had led the music for many of the team's outings, picked up a melodeon which she seemed to know instinctively how to play from day one, and composed a new tune for which the team are working on a new dance. Not bad for the first 9 months!
2013 - 2020
Mary and Anahata left the team, having placed the music in capable hands (see above.) Several other musicians have joined, left and come back, and Kathryn is still playing and inventing new tunes to go with new dances, supported by newer musicians Dan and Kev.
For most of 2020, there has been no practising and no dancing at all because of the Covid-19 pandemic.
New Arrangements of Rob's Recordings
John Foreman, who used to dance with Yaxley Morris (the team which became Pig Dyke Molly) is a guitarist who collaborated with Rob Griggs on the
Frost and Fire
album. John has remastered some of the recordings he made with Rob, and has more recently (2021) discovered and restored a collection of recordings of Rob's playing, and created some new mixes of those recordings with himself on guitar. You'll find them
HERE
.